ART & ACTION ON LAND AND SEA
SUPERCOLLIDER is proud to host its second annual SciArt Research Trip with the Santa Rosa Island Research Station (SRIRS), a week-long trip in collaboration with California State University Channel Islands (CSUCI) at the Channel Islands National Park.
The fusion of art and science presents a captivating exploration of our world, blending distinct disciplines. This educational journey immersed attendees in a rich ecological diversity, promoting cross-disciplinary collaboration and a deeper understanding of the island's history and budding future.
The research station served as an outdoor classroom, where exploratory hikes and guided tours by scientists uncovered the island's vibrant biodiversity. This immersive environment offered an abundance of inspiration for artistic expression while instilling a profound sense of responsibility for the natural world.
Activities included participation in ongoing research projects, stargazing with astronomy professors, and engaging in hands-on restoration work. This cross-disciplinary work unveiled fresh perspectives, revealing the power of art-science collaborations.
An integral component of the program was its focus on service. Participants contributed to beach cleanups as part of the Marine Debris Project and built structures for the Cloud Forest restoration project, underlining the importance of active conservation efforts.
The SUPERCOLLIDER x Santa Rosa Island Research Station (SRIRS) research trip took place June 16 – 21, 2023. This experience consisted of two virtual check-ins (including meetings with artists, scientists, and organization directors); a tour of the Santa Rosa Island Research Station; field research on land and at sea; collection of marine debris for art making; display of final projects and artworks online culminating in an exhibition for the Channel Islands Research Symposium in November, 2023.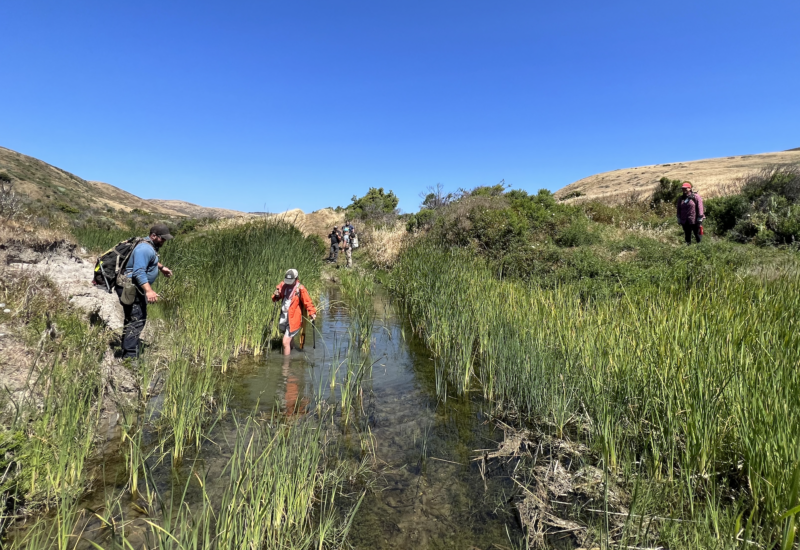 Emma Akmakdjian, our Field Study Program Manager, is the creator of the week-long field study program at the Santa Rosa Island Research Station between artists from our community, CSUCI (California State University Channel Islands) interdisciplinary faculty, and students.