Curated by: UCLA Art | Sci Center, NAVEL, CultureHub, Supercollider
Featured Artists: Sasha Fishman, Erin Cooney, Ibuki Kuramochi, Isabel Beavers, Ivana Dama, Iman Person, Emma Akmakdijian
In Symbiosis: Sculpting the Art of Living Together, seven Los Angeles-based artists explored the relationship between distant mediums: art and biological sciences. These artists took inspiration from sources such as the ocean, animal exoskeletons, and the human body to challenge the way these disciplines intersect and unite through technology.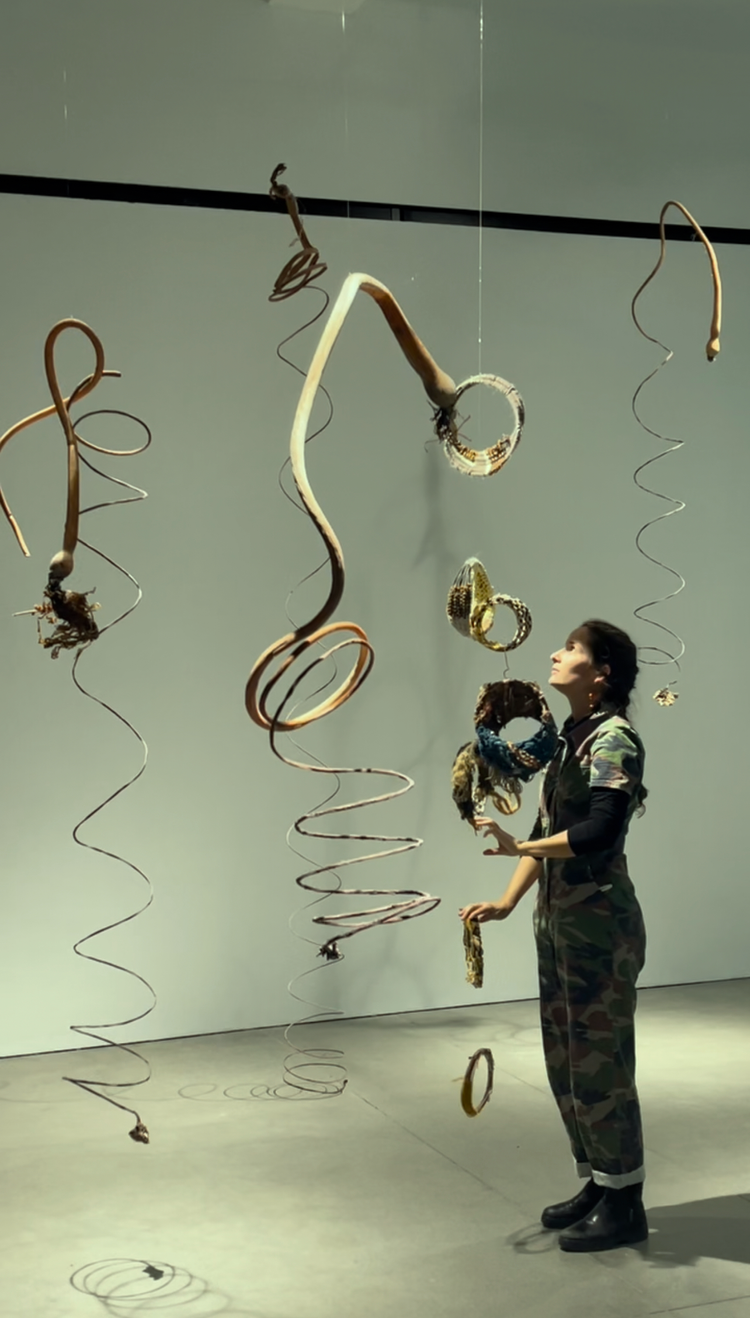 This event featured the following works of art:
Sasha Fishman's Flatlands, Gush, Shrimp, Ice and All at Once which investigates marine biomaterial extraction, toxicology, and genetic engineering as points for critical analysis and mechanisms for sculpting.
Erin Cooney's The Waves, which offers a defamiliarized visual and sonic experience of ocean waves by mirroring and transforming the waves into a sort of creature endowed with agency.
Isabel Beavers' Nocturne: Sea Altar, which honors the ocean through a multimedia installation incorporating audio, audio-reactive visuals, and light sculptures.
Ibuki Kuramochi metamorphoses her body digitally into various forms beyond time and space in her compositions Orgasmic Flesh, Filamin, and Cavum oris.
Ivana Dama explores the idea of playing a musical instrument with your eyes using custom pupil-tracking software in Command and Control.
Emma Akmakdijian's Weaving Threads video performance and installation of woven found fibers, bull kelp, and animal fibers considers the complex land and sea ecosystems of these co-creators.
Iman Person's New Air considers interspecies communication through the medium of air and video, and activates new channels for heightened human sensitivity to the environment.
This exhibition also featured a workshop by Sasha Fishman, titled Timekeepers. Fishman had various solutions of chitosan mixed with vinegar that participants could pour into disposable petri dishes to make bioplastics. Participants could then mix dyes made from spirulina into their plastic while it's still a liquid and utilize various shells from shrimp and cicadas that could be mixed in for textural differences.